Welcome to Our Service Department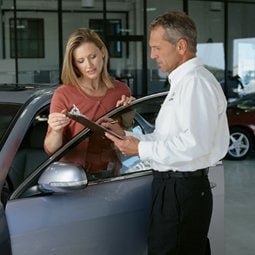 At Murray Motors Milton, our highly qualified technicians are here to provide exceptional service in a timely manner. From oil changes to transmission replacements, we are dedicated to maintaining top tier customer service, for both new and pre-owned car buyers! Allow our staff to demonstrate our commitment to excellence.
Schedule Your Next Ford Service Appointment at Murray Motors Milton
Do you follow your vehicle manual's recommended service schedule? There's a reason why manufacturers advise drivers to take care of things like oil changes, tire rotations, and brake repair at certain times. Skipping service appointments can result in some serious consequences you may never have considered. Here are some of the top reasons the Murray Motors Milton team recommends keeping up with routine vehicle maintenance for your Ford vehicle.
Why Follow Your Recommended Maintenance?
If your vehicle is new, you'll need to be sure to stick to the recommended maintenance schedule to keep your warranty valid in most cases. If you skip an appointment or go too many miles between oil changes, you could risk having to pay out of pocket for your next big repair near Northumberland.
Issues like clogged air filters, dirty fuel injection units, uneven tire pressure, and worn spark plugs can cause problems with fuel efficiency. Keeping up with these maintenance jobs will save you money at the pump. It can also help your vehicle to perform better in general. You'll get a smoother and quieter ride when everything is well taken care of.
Prevent More Serious Issues
You can prevent breakdown and keep repair costs lower by attending to routine maintenance near Muncy. Forgetting service appointments can lead to bigger and more expensive problems such as replacing parts or even an entire engine. Our team can repair your Ford vehicle and replace anything amiss with genuine OEM parts.
Visit Murray Motors Milton for Excellent Ford Service
Now that you have this information, are you ready to schedule your next Ford service near Montgomery? Just give us a call in Milton or visit our website to make an appointment. Our service department will be happy to answer any questions you have, provide advice on priority tasks and schedule your appointment for a convenient time. Caring for our customers and their vehicles is our top priority.